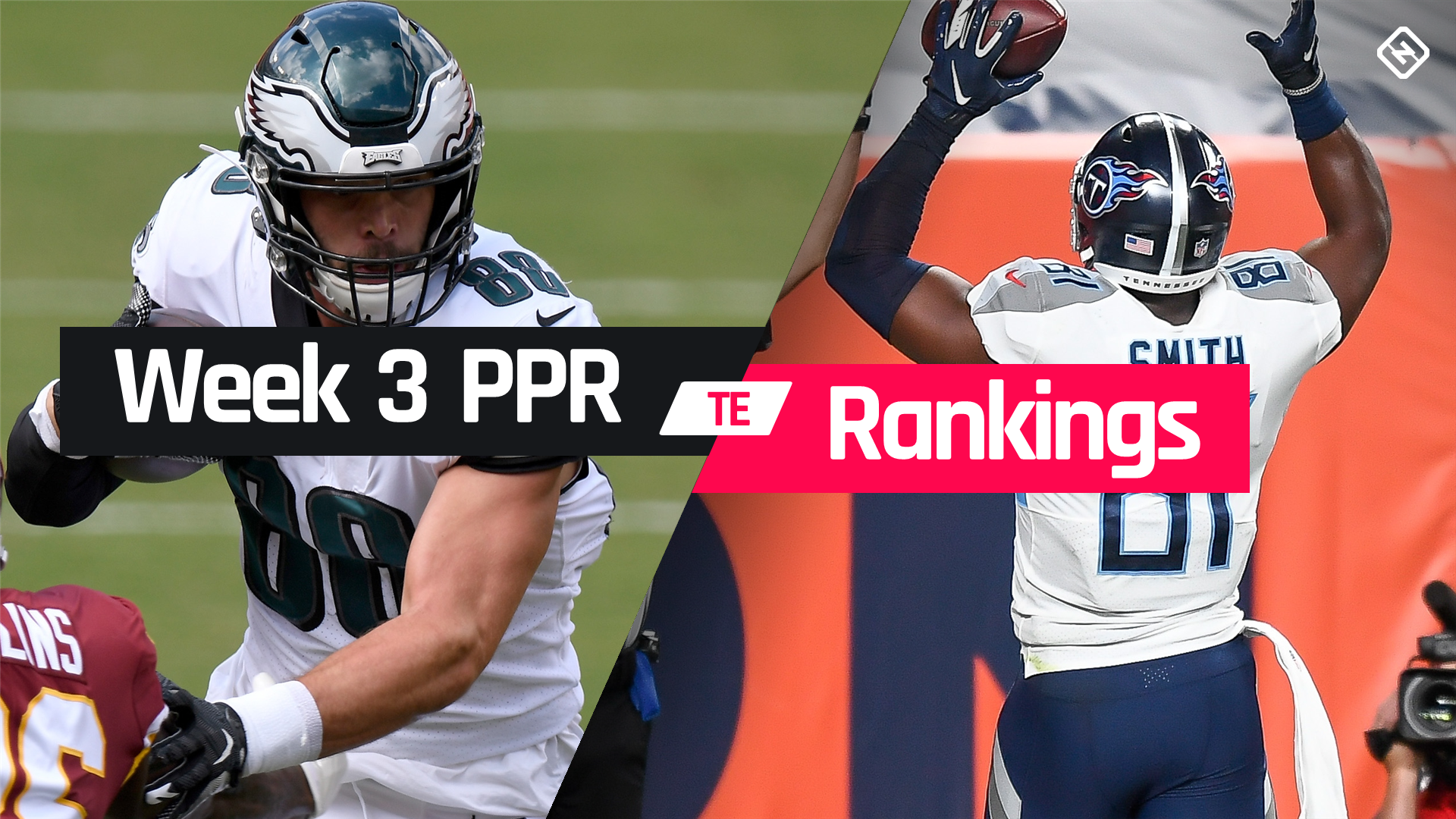 Last week was a surprise for the tight ends, with Dalton Schultz, Logan Thomas and Drew Sumpel in the top five on goals, Tyler Hegby, Juno Smith and Jordan Reed – yeah, that Jordan Reed – all of them fell into several relegations. Other than Higbee, none of these players have been particularly high in the pre-season TE rankings, and even if you liked Smith as a sleeper, you might have drafted him as a backup after a "safer" TE like Zach Ertz or Evan Engram. Hopefully you've been pivotal to these guys and made Smith last week, but if you need a little more encouragement, the TE PPR's Fictional Week 3 Rankings are here for you.
We are not shy about switching strongly to prefixed TEs, especially if they are looking for favorable confrontations. Just two weeks later, it's still hard to tell what is real and what the deviation is, but there are a lot of trends that seem legitimate, like the Smiths outbreak, Noah Funt appearance, TJ Hockenson's consistency, and Mike Jessicky's enhanced role in the dolphin attack. We're not writing off Ertz now, but Rob Gronkowski may be the definition of "touch or depression," which holds less value in PPR tournaments. Austin Hopper also doesn't seem very reliable in his new squad, and it looks like Eric Ebron was an afterthought (although you know he's going to have a big game when you least expect it). Engram started a bit in week 2 but still had issues.
Standard Classifications for Week Three:
Quarterback | Running back | A broad future | tight end | D / ST | Kicker
We don't want to exaggerate the 3rd week rankings, but there doesn't seem to be much difference between a lot of the TEs mentioned above. Travis Kelsey, Mark Andrews and George Keitel, if they are in good health, would still stand out even if they had bad games, but even players like Hunter Henry and Darren Waller are challenged by some of these rookies. They remain a bit more valuable in the PPR tournaments, but it's clear that we'll need to see more yards and drops in order for them to stay high as they are.
PPR classifications in Week 3:
Quarterback | Running back | A broad future | D / ST | Kicker
Ultimately, it's good for Fantasy owners that there seem to be more high-end TEs, although it makes squad decisions more difficult. This is where matches come in, but, again, there is a lot that we know in two weeks. It does not help that TE depressions are risky.
We try our best to balance all of these factors, but even this early in the season, you shouldn't be afraid to take risks. The name's value means little to nothing of it at this point, so a calculated risk of one of this year's breakthroughs might be the right move for your team.
We'll keep updating our final PPR rankings throughout the week so check back for updates.
3rd week Fantasy TE PPR Rankings
These rankings are for full-score PPR tournaments
| | |
| --- | --- |
| Rank | Player |
| 1 | Travis Kelsey KC @al |
| 2 | Mark Andrews, BAL v. KC |
| 3 | George Keitel, SF @ NYG |
| 4 | Darren Waller, LV @ NE |
| 5 | Juno Smith, TEN @ MIN |
| 6 | Hunter Henry, Latin America and the Caribbean versus CAR |
| 7 | Tyler Hegby, LAR @ BUF |
| 8 | Noah Fante, DEN vs. Tuberculosis |
| 9 | Jared Cook, not for GB |
| 10 | TJ Hawkinson, DET @ ARZ |
| 11 | Mike Jessicky MIA @jax |
| 12 | Hayden Hirst, ATL vs. CHI |
| 13 | Zak Arts, PHI vs. CIN |
| 14 | Evan Ingram, NYG vs. SF |
| 15th | Dallas Guidert, PHI vs. CIN |
| 16 | Logan Thomas, WAS @ CLE |
| 17 | Jordan Akins, HOU @ PIT |
| 18 | Drew sample, CIN @ PHI |
| 19 | Eric Ebron, PIT vs. HOU |
| 20 | Dalton Schultz, DAL @ SEA |
| 21 | Chris Herndon, NYJ @ IND |
| 22 | Austin Hopper, Klee vs. Kahn |
| 23 | Jack Doyle, India versus New York |
| 24 | OJ Howard, TB @ DEN |
| 25 | Rob Gronkowski, TB @ DEN |
| 26 | Tyler Evert, Jax vs. Mia |
| 27 | Jimmy Graham, CHI @ ATL |
| 28 | Ian Thomas, CAR @ LAC |
| 29 | Taysom Hill, NO vs. GB |
| 30 | Dan Arnold, ARI vs. Dt |
| 31 | Irv Smith Jr., Maine vs. Tin |
| 32 | Greg Olsen, SEA vs. DAL |
| 33 | Kyle Rudolph, Maine vs. Ten |
| 34 | Dawson Knox, BUF vs. LAR |