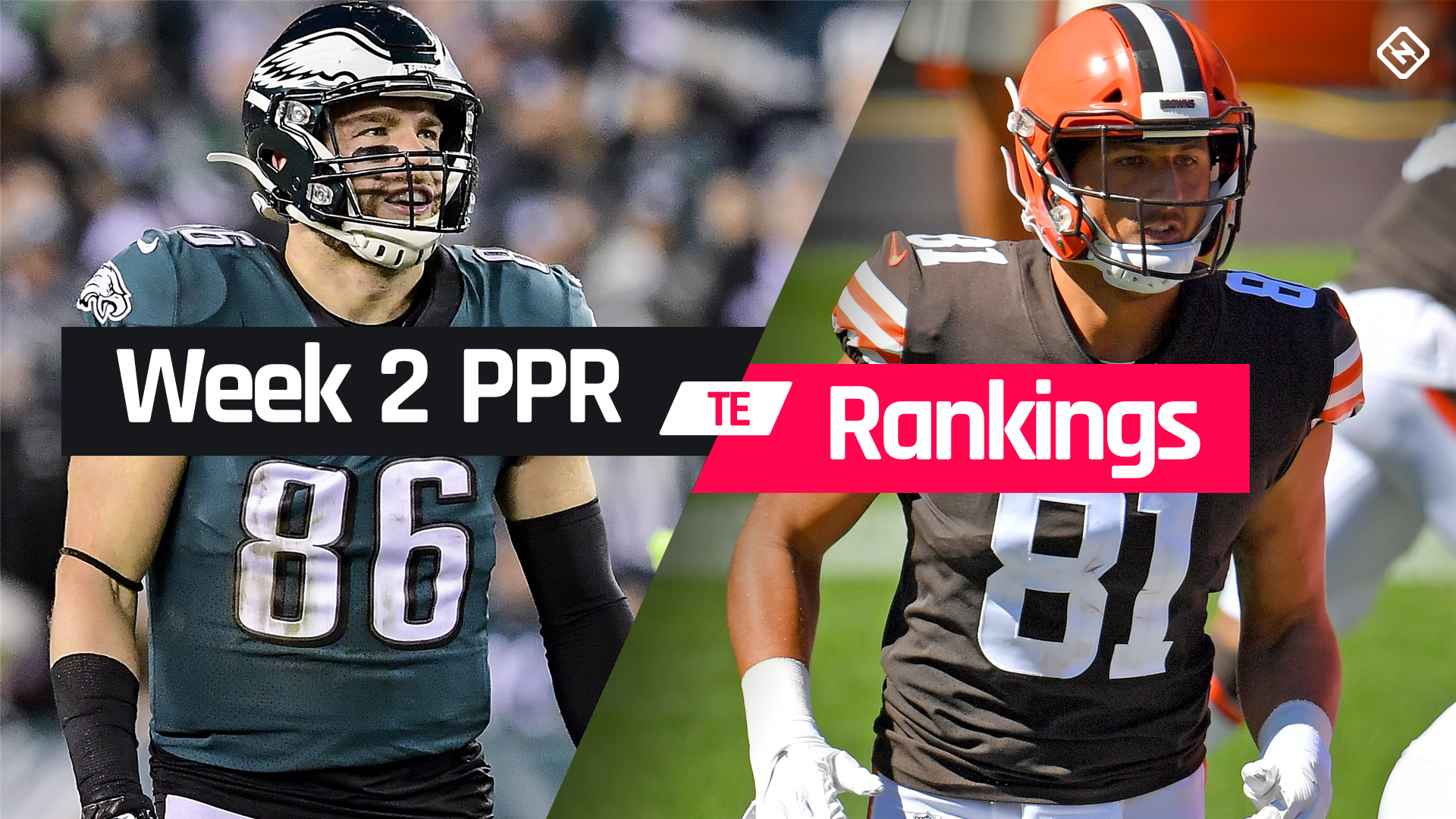 Did the season's opening week sound like a tame this year? Sure, there were some surprise performances, like Dallas Guidert leading the center in the arenas, guys like Logan Thomas and Jimmy Graham getting to the finish area, but we didn't have many crazy good shows or huge busts. It's been a regular day in the office for the job, but believe it or not, that makes compiling the TE PPR's fictional second week rankings a little tougher.
We were ready to overreact – willing to announce some favorable or unfavorable defenses for the TEs – but had little to work with. We wouldn't have to worry about George Keitel despite a disappointing first week, just as we wouldn't get too excited about Jordan Akins just because he scored. Not everything went as expected – Hayden Hirst wasn't getting any looks until the fourth quarter was troubling, and the efforts of Rob Gronkowski and Ivan Ingram were less than excellent. Austin Hopper also seemed like an afterthought for his new team. We're not ready to write off all of these guys, but they're all down in this week's ranking.
Standard classifications for the second week:
Quarterback | Running back | A broad future | tight end | D / ST | Kicker
On the contrary, Goedert moves in after he looks better than Zach Ertz. OJ Howard is on the rise as well, although we're not selling on his consistency since he's mostly produced after Bucs dropped several scores late in the game. We were pleased with the number of goals Darren Waller (8), Hunter Henry (8) and Jared Cook (7) scored even though none were in the final zone. Chris Herndon (7) and Logan Thomas (8) are also on the radar, at least in the PPR tournaments, but we're not ready to clear either as beginners yet.
Week 2 PPR rankings:
Quarterback | Running back | A broad future | D / ST | Kicker
Chances are, we will see some surprises in the second week, so we are taking a conservative approach to these rankings. The jury is still out of range of certain defenses, but it looks like Washington, Detroit and Tampa could have trouble with the TEs throughout the season. We're not letting Arizona off the hook yet after a historically poor performance last year, but we still don't rise much based on the matches. For now, we'll stick with (mostly) proven producers and gradually address the trends we see during the games.
Cash Lines for Week 2 NFL DFS:
Hey ho | Kings | Vandel
We'll keep updating our final PPR rankings throughout the week so check back for updates.
NFL DFS course lines for the second week:
Hey ho | Kings | Vandel
Second week TE PPR rankings
These rankings are for full-score PPR tournaments
Week 2 DFS: The best stacks | The best values | Lineup builder
| | |
| --- | --- |
| Rank | Player |
| 1 | Travis Kelsey, KC @ LAC |
| 2 | Mark Andrews, BAL @ HOU |
| 3 | Hunter Henry, Latin America and the Caribbean v. KC |
| 4 | Jared Cook, NO @ LV |
| 5 | Darren Waller, LV vs NO |
| 6 | Zak Arts, PHI vs LAR |
| 7 | Tyler Heigby, LAR @ PHI |
| 8 | Dallas Guidert, PHI vs. Thigh |
| 9 | Evan Ingram, NYG @ CHI |
| 10 | Noah Fante, DEN @ PIT |
| 11 | Juno Smith, Ten vs. Jax |
| 12 | Hayden Hirst, ATL @ DAL |
| 13 | TJ Hawkinson, DET @ GB |
| 14 | Eric Ebron, PIT vs. The |
| 15th | Mike Jesicki, MIA vs. BUF |
| 16 | Austin Hopper, Klee v. CIN |
| 17 | Rob Gronkowski, TB vs. CAR |
| 18 | Logan Thomas, WAS @ ARI |
| 19 | OJ Howard, TB vs. CAR |
| 20 | Jordan Reed, SF @ NYJ |
| 21 | Ian Thomas, CAR @ TB |
| 22 | Jimmy Graham, Chi vs. NYG |
| 23 | Chris Herndon, New York versus SF |
| 24 | Tissum Hill, NO @ LV |
| 25 | CJ UZUMA, CIN @ CLE |
| 26 | Mo Alie-Cox, IND vs MIN |
| 27 | Dan Arnold, ARI vs. It was |
| 28 | Greg Olsen, SEA vs. NE |
| 29 | Kyle Rudolph, MIN @ IND |
| 30 | Jordan Akins, HOU vs BAL |
| 31 | Irv Smith Jr., MIN @ IND |
| 32 | Tyler Everett, Jax @ Ten |
| 33 | Dawson Knox, BU @ MIA |